Greet One Another with a Holy Kiss
(While Keeping 2 Metres Apart And Not Speaking Moistly)1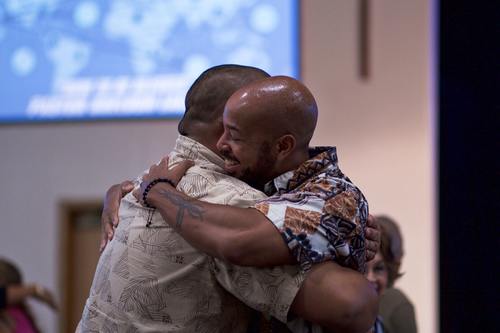 Have you ever wondered about the "greet one another with a holy kiss," command that's found in Scripture? Why aren't we all kissing each other when we walk through the doors of the church? The first time I gave thought to the idea of greeting people with a kiss was when a strange girl ran over to my boyfriend (who is now my husband) and enthusiastically kissed him on both cheeks. Not understanding French-Canadian culture, I was jealous of his old friend from school who was simply behaving how most people in Quebec behave when they greet someone they know.
Recently, with social distancing, I've been giving thought again to the "One Another's" found in scripture, and today I'd like to share some ideas with you about what it means to "greet one another with a holy kiss" and how this applies in a time when the church is not gathering together.
Several New Testament letters conclude by urging believers to "Greet one another with a holy kiss." (Romans 16:16, 1 Corinthians 16:20, 2 Corinthians 13:12, 1 Thessalonians 5:26, 1 Peter 5:14). Kissing was a common form of greeting in the Middle East at the time these letters were written. As I think about the command given in the various contexts, a kiss might represent unity between Jew and Gentile, humility between rich and poor, acceptance to believers who were rejected by their families, and love that welcomes and desires to serve the one being greeted.
In our culture, the hand-shake might be considered an equivalent greeting instead of a kiss. And sometimes when someone we know enters the church foyer we go beyond the handshake to pull them into a hug. But now imagine someone comes into our gathering from the streets, dirty and with a distinctive odour. Would you reach out for a handshake? What about a hug? Perhaps this is what the Bible is talking about - warmly greeting all those who come into our midst as beloved family members.
Some of you may ask about the literal interpretation of the holy kiss. Aren't we required to kiss as a greeting since that's what the Bible says? If you choose to ignore this command, what other commands will you also ignore? Well, I would look at three things: first, the command is not rooted in creation; second, it's not found throughout Scripture; and third, it's not a gospel issue. It seems to fall into the same category as foot-washing or head-covering. In these things we look at the intention behind the command, and instead of washing someone's feet, we serve them with humility, instead of a woman covering her head, she submits to her husband's headship. Still, if a brother or sister feels they must interpret the holy kiss literally, I would respond in love by accepting that form of greeting.
In his book, Side By Side: Walking with Others in Wisdom and Love, Ed Welch says, "Greetings are not a form of politeness from a bygone era. They are skills that imitate the Lord, they show respect and kindness to others and we are meant to grow in them. Listen to one of Paul's greetings: "All the brothers send you greetings. Greet one another with a holy kiss (1 Cor. 16:20). We don't have to kiss someone when we greet them, but when we move toward others, we are to greet them with familial warmth. Since we have been invited, welcomed, and greeted by the Lord, we have the opportunity to reciprocate. By welcoming the least, we welcome Jesus (Mark 9:37)."
2
OK. So I think I understand what the Bible is saying. But there's currently no church gathering where I can practice greeting. And if I happen to run into a fellow believer in the line-up outside the grocery store, I could be fined $1000 if I try giving a hug. Does the greeting of love and familial warmth necessarily require physical gathering and close contact?
Well, the fact that greetings are sent by letter in the early church tells me they don't necessarily need to be physical. There are ways to greet even in times of social distancing. Whether chatting in the live-stream prayer and worship time, giving an encouraging smile on a Zoom call with your small group, or reaching out by phone to that elderly neighbour, there are still ways to move towards other people with love. But I also believe that we are created by God to give and receive love physically, and that's why the apostle Paul commands it of the church, and that's why I long for the day we can gather again and hug one another.
Our culture won't be the same after this pandemic. And I think it's clear that greeting will be one thing that will change, whether just for the short-term or in a long-term kind of way. So let me encourage you to look for new ways to "greet one another with a holy kiss" by imitating the welcome the Lord gives to you. And for those of you who do have family members you can hug and kiss at home, make sure to hold them close and thank God! I know physical greeting is something I won't take for granted anymore.
__________
1
On April 7th, our Prime Minister coined the unfortunate phrase, "Speaking Moistly" in his speech about wearing masks during the Coronavirus pandemic.
A viral musical version of Justin's speech
has already reached over 2 million viewers on YouTube.
2
"Move toward and Greet One Another." Side by Side: Walking with Others in Wisdom and Love, by Edward T. Welch, Crossway, 2015.